Upstream Saigon To Siem Reap by RV Amalotus Cruise
Tour schedule : 8 Days/ 7 Nights
Tour code :
Here is some highlights about this program Siem Reap to Saigon:
Cultural Highlights: To complement your tours and shore excursions, take part in smile tour cruises's Cultural Highlights—immersive learning and enhancement activities both on board and ashore:
• Visit the renowned Tonle Sap Lake
• Tour the magnificent ruins of Angkor
• Enjoy traditional Apsara temple dancing and other folkloric performances
• Visit colorful floating markets on the banks of the Mekong
• View onboard film screenings that will enhance your journey These in-depth experiences are included as an essential part of discovering more about the places through which you cruise, and each activity is planned specifically to illuminate each itinerary.
Culture Curriculum: Sometimes you want to dig a little deeper. We offer a series of on board multimedia talks to shed light on the history and culture of the places you visit.
Learn about:
• The rise and fall of the Khmer empire
• The archeological excavations at Angkor
• History of Vietnam and Cambodia
• History and culture of the Champa people and other ethnic groups
• Key words and phrases in the local languages These presentations provide a context for your own observations, enhancing your travel experience.
Upstream Saigon To Siem Reap by RV Amalotus Cruise
Grade:
Duration: 8 Days/ 7 Nights
Cruise Routes: Saigon – Cai be – Sa Dec – Tan Chau border crossing – Phnom Penh – Kampong Chhnang – Tonle Lake- Siem Reap
Upstream cruise Saigon to Siem Reap or vice versa 8 days by RV Amalotus Cruise
Day 1: Embarkation – My Tho – Cai Be (lunch,dinner).
Register between 11:00 to 12:00 at Sofitel Saigon Plaza Hotel. Transfer overland by motor coach to My Tho port for embarkation aboard the Indochina Sails' ship for the journey from the Mekong Delta to Holy Angkor. Embark ship at 13:30. Welcome drinks served in Saigon Lounge. Short briefing is conducted before adjourning for lunch in Mekong restaurant. The cabins are ready for check-in after lunch. After port clearance formalities, captain raises the anchor and cruises towards Cai Be. Join the Cruise Director at Saigon Lounge for safety demonstration and briefing at 18:00, followed by Captain's Cocktails. Enjoy the first gourmet dinner onboard with fellow travelers. Enjoy folk performances of the Mekong Delta from 21:00 to 21:45 in Saigon Lounge The ship moors overnight midstream at Cai Be.
Day 2: Cai Be – Vinh Long (breakfast/lunch,dinner).
---
---
After breakfast take a morning junk trip around Cai Be. See floating market, go ashore to visit French Gothic Cathedral and colorful port area, filled with colonial buildings, delightful flower gardens and local rice paper manufacturers. Return to the boat at noon. After enjoying lunch while ship sails toward Vinh Long – the second largest city on the Mekong Delta. In the afternoon, take a short boat ride to get ashore for a walking tour of Vinh Long and visit a bustling market. Return to the ship at 17:00. Cocktail and briefing with Cruise Director at 18:00. After dinner, ship sails to Sadec and arrives Sadec around 23:00. The ship moors overnight midstream at Sadec.
Day 3: Sa Dec – Tan Chau (breakfast/lunch,dinner).
This morning, follow guides to the hometown of Marguerite Duras' lover, Sadec, a quaint little city. Visit the old house of Huynh Thuy Le, partake in the bantering of local markets along the paved river banks, pagoda and the Fujian Temple, build and donated to the city by the late Le family. Pass by the home of Marguerite Duras from across the riverbanks. Re-board ship at 11:00 for lunch. After that, ship sets sail to Tan Chau. In the afternoon, Vietnamese tour guides will give a lecture about Vietnam – the Past and the Present in the Saigon Lounge at 16:00. Cocktails and briefing at 18:00 followed by dinner at 19:00. Ship arrives at Tan Chau around 18:30. After dinner, join the crew show in the Saigon Lounge. More music, more dancing afterwards. Tonight the ship moors midstream at Tan Chau.
Day 4: Tan Chau – Border Crossing  (breakfast/lunch,dinner).
Today's highlight is a visit of Tan Chau – a small town untouched by tourism. In the morning, the excursion starts with sightseeing by local boats, navigating narrow channels to visit an evergreen island. Chance to visit floating fish farm and travels along the tiny tributaries where slit houses are haphazardly leaning on each other. Afterwards, go ashore and tour the town on rickshaw (XeLoi). Visit rattan mats and slippers making factories. Return to the ship and enjoy lunch while the ship departs for border. In the afternoon, enjoy Fruits Carving and Vietnamese Fresh Spring Rolls demonstration by Executive Chef at Saigon Lounge. Border formalities are carried out concurrently. Cocktail hour from 18:00 – 19:00, dinner at 19:00. After dinner catch movie "The Killing Fields" in the Saigon Lounge. In the evening, sail overnight up the broad Mekong River, an international shipping route and moor mid-stream just outside of Phnom Penh.
Day 5: Phnom Penh (breakfast/lunch,dinner).
A busy day with many interesting sightseeing and activities, in the morning, sightsee Phnom Penh by bus. Visit Royal Palace, the spectacular Silver Pagoda and the National Museum where outstanding Khmer crafts are exhibited. Afternoon excursion facilitates understanding of a crucial part of the Cambodia's history: the Khmer Rouge's grim ToulSleng (S21 detention center) and the Killing Fields. (For a free and easy afternoon, please inform Cruise Manager). Cocktail hours are served from 18:00 to 19:00. Dinner is served from 19:30 to 21:00. After dinner, join the Khmer folk dances and songs at the Saigon Lounge. Before midnight, opt to chill in one the bars located across the road from the pier.
Day 6: Chong Koh – Oudong – Kampong Tralach (breakfast/lunch,dinner).
---
---
Early in the morning the ship sails towards little known village Chong Koh. After breakfast, take leisurely morning stroll through Chong Koh silk weaving village. Visit a school, some home workshops manufacturing traditional silk and cotton handicrafts and buy some local products. Return to the ship at 10:00.Enjoy a hearty lunch onboard at 12:30 as the ship sails to PrekK'dam.Interesting afternoon tour starts with a bus ride to visit Oudong – the second capital city of Cambodia. Visit a Buddhist Center here and join a blessing. After that, take another bus ride to Kampong Tralach, see Kampong TralachPleu temple and take a 20-minute ox-cart ride back to the ship. Re-board ship in Kampong Tralach. Ship sails to Kampong Chhnang afterwards. Cocktail hour from 18:00 to 19:00, dinner is served at 19:00. After dinner, join together in the Saigon Lounge with Cruise Director for a "Nasty Quiz" night. Ship arrives at Kampong Chhnangaround 23:00 and moors midstream overnight.
Day 7: Kampong Chhnang – Prek K'dam (breakfast/lunch,dinner).
Kampong Chhnang is a busy rural port town with bustling markets. Mooring mid-stream, take a truly wonderful motorboat excursion into the lakeside wetlands that form the mouth of the river. Here a stunning variety of birdlife may be seen, and of considerable interest are local life and floating village. Return to the boat and cast off towards Tonle Lake. The great lake dominates Cambodia and is over 150 km in length. Here bird life is profuse, and from the middle of the lake one cannot even see the shores. There is a great stillness and tranquility as the boat sails past floating fishing villages. Enjoy the great afternoon views to the boat cruise over the lake. Time for packing and prepare for Farewell Cocktail this evening. The ship moors overnight near Siem Reap.
Day 8: Disembarkation – Prek K'dam (breakfast/lunch,dinner).
Enjoy breakfast onboard. Bid farewell to the crew and guides. Disembark around 8:30 and take motorized boats to local jetty approximately 5 to 6 km away from the middle of the lake. Transfer by motor coach to Le Meridien Angkor Hotel. Arrive at hotel at 10:00.
Quotation: VND/Double cabin (note*: rates vary depending on departure date – please contact us for details)
Deck

Lower Deck

Main Deck

Upper Deck

Sundeck

Sundeck

No of Cabins

8

16

14

6

2

Cabin types

Mekong Stateroom

Tonle stateroom

Saigon stateroom

Sadec suite

Indochina suite

Area

21 sq.m

21 sq.m

21 sq.m

27 sq.m

42 sq.m

High Season

31 Oct 2013 – 12 March 2014

Price

96,558,000

VND

107,058,000 VND

117,558,000 VND

130,158,000 VND

151,158,000 VND

Low Season

28 Mar 2010 – 25 Sep 2010 or 24 April 2010- 28 May 2011

Price

62,958,000

VND

69,678,000

VND

76,398,000

VND

84,588,000

VND

98,238,000

VND
Exchange Rate: 1 USD = 21,000 VND
What is included:
• All excursion including entrace fees, transportation and English speaking tour guides services.
• Taxes, fuel, pilot, port dues, passengers levies, full board during itinerary.
• Welcome and Farewell Dinners, daily breakfast, lunch and dinner including local beers, local brand spirits and local wines served during meals; coffee, selection of teas, selection of herbal infusions, local mineral water, local canned soft drinks served through the day.
• A meeting point and drop off point shall be decided by Indochina Sails; transfer to/from these meetings, currently set as Le Meridien Angkor Hotel in Siem Reap and Sofitel Plaza Saigon Hotel in Ho Chi Minh City, to/from the ship is Indochina Sails responsibility.
What is not included:
• International flights
• All visa costs Imported beverages such as wines, premium beer, premium spirits and liqueurs, imported mineral waters, espressos and cappuccinos at bar.
• Gratuities, laundry, shop purchases and other personal expenses.
more - RV Amalotus Cruise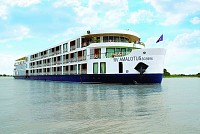 Tour schedule:
8 Days/ 7 Nights