Overview RV Amalotus Cruise
Tour schedule :
Tour code :
RV Amalotus Cruise
Grade:
 Built in: 2011
Good For: Those who travel to have experience about Mekong Delta in Luxurious cruises, wish to visit Floating village and market, lifestyle of Mekong people.
View a few highlights in a long list of many on RV Amalotus Cruise The Amalotus provides an exquisite setting for a Mekong river odyssey. Inviting public areas include a restaurant serving Asian and Western specialties; Saigon Lounge; Panoramic Lounge and Library with complimentary Internet access; Gift Shop…
RV Amalotus Cruise Mekong Restaurant:
Paired legendary European cuisine, traditional and Vietnamese-Cambodia fusion highlights Marguerite Duras' passion for exploring multi sensory dining. A culinary celebrations of aromatic taste and texture adds pleasure to the palate, senses, memory and emotions.
RV Amalotus Cruise Saigon Lounge and relaxing chill out music:
Saigon Lounge: Indulge in a splendid afternoons and evenings with a variety of soothing and relaxing chill out music. Panoramic Lounge: set right in front of the vessel and one could see the panoramic views of the Mekong River thus allowing the travelers to revel in the beauty of the countryside.
RV Amalotus Cruise Massage and Beauty Salon:
the way you cruise through Vietnam and Cambodia's most beautiful and tranquil scenery along the Great Mekong River, why not take the opportunity to pamper yourself? We have an expert hair stylist, masseuse and beauty therapist at your disposal for the duration of the cruise. Pamper your body and rejuvenate your soul while you're on board with RV Amalotus Cruise.
RV Amalotus Cruise enjoy the sun on Sun deck & Swimming pool:
Enjoy the sun by the dipping pool where you'll find refreshing and invigorating concoctions and snacks that are created and served using the freshest ingredients. You can sip to your heart's content with relaxing views of the Mekong Delta.
RV Amalotus Cruise Gourmet cuisine:
For a delicious taste of local cuisine, all meals are included on your Mekong River cruise. While each meal presents the chance to dine on exotic Asian fare, Western favourites are always available, should you desire a taste of home.
Breakfast – Each leisurely breakfast presents a lavish buffet, offering you a choice of English, Continental or Asian-inspired cuisine.
Lunch – Select from an extensive buffet or à la carte dining menu, or perhaps order a local dish at the chef's station, and watch fresh gourmet treats being prepared.
Dinner – A four-course à la carte feast explores the delicious fusion of Vietnamese and Cambodian cuisine, while an equally impressive Western option is always on offer.
Included Drinks Throughout Your Mekong Cruise
During your cruise aboard the RV AmaLotus, soft drink, local beer and spirits are included at all times, while local wine is included during lunch and dinner. 
Exquisite Dining Service
Ensuring seamless attentive service throughout your Mekong cruise aboard the RV Amalotus, a Corporate Chef and Restaurant Manager will see that every aspect of your onboard dining is cared for.
RV Amalotus Cruise Life on Board:
Intriguing & Insightful Lectures
During your Mekong River cruise, local guides and historians will come aboard to deliver fascinating lectures that you're able to attend as you choose. Learn about the golden age of Cambodia during the Angkor period, which will enrich your appreciation of the fabled temples of the ancient Khmer empire. Local customs, beliefs and traditions are also unearthed, adding valuable commentary to the places you'll visit.
Magical Musical Performances On Board
On selected evenings, the Saigon Lounge & Bar converts into an atmospheric theatre that hosts a diverse program of musical entertainment that offers an amazing glimpse into the cultures of the region. Throughout the entire cruise, a pianist will be quietly playing soothing local music as well as some old favourites.
Peaceful Movie Nights in Your Suite & the Saigon Lounge
Each night presents the opportunity to relax and watch a film on your flat-screen television in the comfort of your suite. In addition to a huge catalogue of the latest box-office movies available to borrow on DVD, you're able to enjoy movies and documentaries that are based on the very regions you visit.
Traditional & Interactive Evening of Khmer Dance
During an entertaining evening of song and dance, you'll enjoy a traditional Khmer folk performance and listen to a range of charming music that's local to the Mekong region. The folk dancers wear clothes of the people they are portraying, such as Chams, hill tribes, farmers, and peasants. This evening is all about you getting involved – you can even join in the dance if you wish.
Cooking Class & Fruit-carving Demonstration
Decorative food is a very important part of Vietnamese food culture, as presentation is all-important. Onboard, enjoy a detailed fruit-carving demonstration by the ship's executive chef, and delight in the secrets of making the region's most famous delicacy – Vietnamese Spring Rolls.
Note: the entertainment could be changed basing on shedule or level water.
Operation: September 2011
RV Amalotus Cruise Ship Facts:
• Operation:September 2011
• Length: 92.05m (302 ft)
• Width: 13.5m (44 ft)
• Passengers: 124
• Stateroom: 62
• Crew: 56 (International)
• Registry: Vietnam
• Style: Boutique
RV Amalotus Cruise Deck Plan:
---
more - RV Amalotus Cruise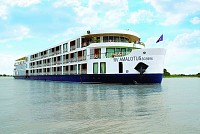 Tour schedule:
8 Days/ 7 Nights
Tour schedule:
8 Days/ 7 Nights