Phnom Penh – Siem Reap 3 Days By RV Indochine Cruise
Tour schedule : 3 Days/ 2 Nights
Tour code :
Some highlights of RV Indochine Mekong Cruise:
What culture you will learn or experience about this cruise trip:
• Admire the amazing canal network of Mekong Delta
• Enjoy the senses of Tonle Sap lake or Daily life of floating villages
• Explore the waterway Phnom Penh – Siem Reap with its people vivid daily life
• Experience the culture and taste the typical foods with special cuisines
• Learn and visit greatest temples in the World as Angkor Wat
What service you expect from this cruise trip:
• Taste the best Cambodian and Western food
• Enjoy boutique cabin and lovely facility onboard
• Watch best folk art of Cambodia as Aspara Dance
Phnom Penh – Siem Reap 3 Days By RV Indochine Cruise
Grade

:
Duration: 3 Days/ 2 Nights
Cruise Routes: Phnom Penh – Koh Chen – Oudong – Kampong Tralach – Kampong Chnang – Kampong Luong- Siem Reap
Tour cruise Phnom Penh – Siem Reap or Vice versa 3 Days by RV Indochine Mekong
Day 1: Phnom Penh – Koh Chen / Oudong – Kampong Tralach (lunch/dinner)
---

---
07:45 Indochine is open for embarking
08:00 Departure of the Indochine for Koh Chen (Chinese Island). Security briefing.
08:45 Arrival to Koh Chen, small village of whose inhabitants specialize in silver and copper smiting. They make ornamental items, including delicately engraved tropical fruits, used in traditional ceremonies at the pagoda or for marriages. The distant hills of Cambodia's old capital, Oudong, and its royal stupas can be seen a few kilometers away from the ferry. At the top of the hill, the ruins of Anthareu temple.
11:45 Passengers re-embark the Indochine. Lunch on board on the way to Kampong Tralach. Visit its wonderful Vihara belonging to Wat Kampong Tralach Leu pagoda. To get to it, we cross Kampong Tralach Krom village along a small road perpendicular to the river, crossing some gorgeous stretches of emerald rice paddy as we leave the river behind.
The Vihara dates back to early last century. It was probably built on an older site, as indicated by the laterite foundations, and is home to some outstanding mural paintings. These, however, are starting to suffer from weathering. They remain one of the last survivors of cultural destruction that continues unabated due to widespread indifference.
Standing by itself in the middle of rice fields, it is a modest pagoda that receives very few visitors. Its isolation may well be its undoing, as was the case for Wat Tani Pagoda in the province of Kampot.
17:30 Passengers re-embark. The Indochine drops anchor few miles away. Welcome drink and info meeting about cruise, crew introduction. Welcome dinner. Overnight onboard.
Day  2: Kampong Chnang – Kampong Luong (breakfast/lunch/dinner)
07:00 Departure of the Indochine early in the morning. Sail to Kampong Chnang. Breakfast during navigation. Arrive to Kampong Chnang. Located some 56 miles from Phnom Penh, the town of Kampong Chnang is one of the largest fishing ports on the Tonle Sap. Fish farming is also widely practiced in the area. The area is famous for its pottery ware, unchanged in style for centuries, which is produced in sufficient quantities to supply the entire country. And not to be overlooked are the products of the Thnot tree (sugar palm – a real national symbol) that abounds in the area: a mellow tasting, caramel-colored sugar sold in large cakes and palm wine.
11:30 Passengers re-embark the Indochine. Lunch on board on the way to Kampong Luong. Arrive at Kampong Luong. Local boats are coming along the Indochine and picking passengers for the visit. Almost totally overlooked by tourists because of its remoteness and difficult access, the village is completely self-sufficient. A floating school, factories to make ice for fish preservation, church, pagoda, service stations, pigsty, stores, boat or television repair shops, video club, karaoke bar, police station… everything is on the water. All trades are represented and everybody from children to grandparents goes by boat through the network of canals that cross this little town.
18:00 Passengers re-embark. The Indochine stays overnight under the protection of the flooded forest. Farewell cocktail (1 glass of local liquor or juice) with Master of Ship & Cruise Manager. Captain's farewell dinner (Enriched menu + 1 glass of wine). Overnight on board
Day 3: Kampong Luong – Siem Reap (breakfast/lunch/dinner)
07:00 Departure of the Indochine early in the morning. Time to pack and relax a half a day by crossing the Tonle Sap Lake.
13:00 Passengers disembark, local tour agent pick up passengers and transfer to hotel after a last lunch onboard.
 Net rate in VND/person
 Single
 Double/twin
 Child (4 – 12)

 21,000,000 VND 

 12,705,000 VND

 30%
 Exchange Rate : 1 USD = 21,000 VND
Inclusions:
    • Full board accommodation, including meals, coffee, tea & drinking water.
    • French or English speaking guide.
    • Visits mentioned in the program.
    • Entrance fees.
    • Transportation from departure port to arrival port
Exclusions:
    • Personal Travel Insurance.
    • Tours & meals other than those mentioned in the program.
    • Transfers from/to airport and hotels.
    • Personal expenses.
    • Gratuities for the crew. Indochine Cruise
    • Transfer from hotel to port and vice-versa.
more - RV Indochine Cruise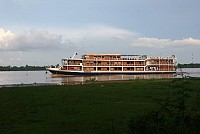 Tour schedule:
10 Days/ 9 Nights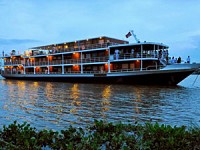 Tour schedule:
8 days/ 7 nights
Tour schedule:
6 Days/ 5 Night