Overview Jahan Cruise
Tour schedule :
Tour code :
Grade:
 Built in: 2011
Good For: Family, Couple, Honeymooner who enjoy luxury Jahan Cruise and stunning scenery along the Mekong River Delta in Vietnam and Cambodia.
RV Jahan Cruise is the newest member of the Mekong River Boat Collection, and the sister of the famous Jayavarman. The new flagship The JAHAN brings river cruising on the Mekong River into a new realm. The singular touches of a luxury boutique hotel, the leisurely pace of a river cruise, and the opportunity to collect new experiences, are the signature style of Mekong River Cruise . The Jahan cruise is designed in boutique style with distinctive British Indian colonial theme, largest balcony staterooms on Indo-china's waterways 30—50m2.
Sone highlighted information about the RV Jahan Cruise:
1. On-board Entertainment/Activities
Excursions and daily program :
Our daily program, excursions and dining times will be hung up next to the reception area. Detailed itinerary for the following day will be placed in your cabin during the turn down service the night before.  A bell will be rung five minutes prior to the excursion. Please gather at the Lobby Lounge and dr0p your key at the reception before leaving the ship. This will allow us to identify guests who wish to remain on the ship. For those who intend to stay back on the vessel, we are more than happy to prepare meals and drinks for you. Just inform our reception or the Food & Beverage staff. You will be provided with a bottle of water for your excursion.
The Boutique Shop
The Boutique Shop offers a collection of magazines, literature, toiletries, travel items, postcards, clothes and handicraft.
Bar and Lounge
---
---
Pre-dinner cocktails, briefings and lectures, movie nights and documentaries. Features tasting workshops – tea, coffee, spirits (local brands) and all kinds of fruit.  
The Lobby Lounge & Art Gallery  
Our air-conditioned library is well stocked with books, magazines, music, videos and games. The Lobby
Lounge and Art Gallery also features briefings, lectures and movie nights.
Restaurant  
Learn the culinary delights of Khmer-Vietnamese cuisine at our cooking workshop.
2. Well-being      
Spa
Unwind at the Beauty and Wellness Spa. Unloose the stress and strain of the world. Discover the unique upscale Southeast Asian spa experience, wholly dedicated to easing your tensions. We offer a wide range of relaxing massages as well as indoor and outdoor beauty treatments. Treat yourself to an invigorating foot massage on the sundeck or in the privacy of your balcony.
We recommend consulting the daily program before booking your spa treatments so you don't miss out on any excursion.
Sun Deck
Enjoy the cruise on the sun deck whilst soaking in the balmy rays of the Southeast Asian sun. Enhance the sunny experience with a drink in hand and foot massage in tow. Come and foster a calm and tranquil mind with our morning Tai Chi classes. A moving form of yoga and meditation combined, Tai Chi animates the body and provides a practical avenue for balance, alignment and a perfect rhythm of movement.
What a great way to start your day! Details and schedule in your daily program.
3. Food & Beverage
---
---
Cuisine
Our splendid cuisine is creative, natural and fresh. Using only the best quality products available, our chef has infused delectable Vietnamese and Cambodian culinary delights into the menu.
Drinks
Freshly brewed coffee, tea and fruit juices are complimentary during breakfast (unless if it is through room service).
All Illy coffee drinks will be ch@rged. Iced mineral water fr0m the jug is free at all times. Before or during shore excursions, bottled mineral water will be handed out. All other drinks will be put on your ship board account.
In room dining room service
There is an in room dining menu in your cabin, offering an excellent range of room service meals and beverages. Room service is available fr0m 6.00 am till 10.00 pm at night. The bill will be ch@rged to your ship board account. The balcony is a marvelous place to have your in-room meal.
Meals
Breakfast and lunch are served buffet-style. As for dinner you have the option of either set menu or buffet. We have a wonderful combination of Asian and Western cuisine. Vegetarian dishes are also offered – please feel free to consult our executive chef. Our meals comprise of mostly locally purchased products (such as exotic fruit, organic vegetables, fish and prawns) to give you a real taste of the lands you journey through. Special diets may be catered for with advance notice.  
Breakfasts are also served on the balcony. Enjoy your morning fix with the sounds of the waves lapping beneath you. Just fill-up your breakfast menu form the day before.
Wine
A wide range of quality wines are available at the Lounge & Bar and the Restaurant. Wine is also served in-room. You may want to return any unfinished bottle to the waiter and consume it another day.
Drinking water / Ice
Water used for the ice machine is purified and clean. Our water purification system comprises 10 steps of filtration such as sand filtration, active carbon filter, microfilter, UV sterilization, chlorine disinfection plus a reverse osmosis system to provide pure drinking water. The drinking water in the jugs (in all our outlets) is safe and clean as it filled fr0m bottled mineral water. When you on an excursion, avoid all ice, ice cream, crushed sugar cane, salads or fruit skins sold by vendors.
Sun Deck
On request, we serve breakfast to your sun bed on a lap tray. Please fill up your breakfast menu (for balcony or sundeck) which is attached to your directory. Drinks and snacks will be served fr0m 6AM to 10PM fr0m the Bar.
Bar & Lounge
Enjoy sundowner drinks and snacks a la carte while cruising through an ever-changing scenery.
Opening Time: 6 am till the last guest leaves.
Restaurant
Our air-conditioned indoor restaurant serves breakfast, lunch and dinner offering buffet or set menu.
We cater for vegetarians upon request. Dinner time will vary. Please refer to the program. The bell will
be rung when lunch or dinner is ready.
Lobby Lounge & Art Gallery
Air conditioned. Read a book fr0m our library or write a postcard. Afternoon tea will be served at the
lounge depending on the weather. Drinks and food will be served on request.
4. Services at a Glance
Reception
Power adaptors/Batteries Power adaptors are available.
For your convenience, we sell batteries at the reception and also accept used ones for environmentally sound disposal.
Booking Service, Please contact our front desk for after cruise hotel bookings, reconfirmations, tours and pick up
services.
Onboard account
You will be given a personal ship board account, which allows you to sign for all purchases and services throughout your cruise. Your ship board account will be automatically opened upon check in. All bills will be ch@rged in US Dollar by cash or credit card (American Express, Master Card or Visa). Please note that only bills exceeding US$ 25 can be settled by credit card. We do not accept traveler cheques. Your provisional account will be presented for your review the evening prior to your departure.
Burn CDs If your camera card memory is full, we offer you our CD burning service for free.
Lost & Found For lost and found items, please contact the reception.
Money Exchange We change small amounts of foreign currencies such as the Euro and Australian Dollar into US Dollar or Vietnamese Dong. Please note that the US Dollar is widely accepted in Cambodia but not in Vietnam.
Post cards Available at our boutique shop. Postal Service To send greetings to loved ones back home, simply dr0p off your letters or postcards at our reception letter box. We will affix the stamps on your letters/postcards and dr0p them off at the post office. The cost of the stamps will be ch@rged to the ship board account.
Transportation
After your cruise, we will assist in transporting you to the airport or hotel. Please ask for our price list
Facts and Figures
Built: 2011
Vessels Registry: Vietnam
Length: 70 m
Beam: 12.5 m
Draft: 1.7 m
Decks: 4
Cabins: 26
Gross tonnage: 950 tons
Speed: 12 nautical knots
Crew: 40 (International)
Deck Plans
more - RV Jahan Cruise
Tour schedule:
8 days/ 7 nights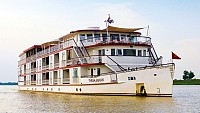 Tour schedule:
8 Days/ 7 Nights
Tour schedule:
5 days/ 4 nights
Tour schedule:
5 days/ 4 nights