Laos Hill Tribes & Treks Holiday
Tour schedule : 12 days
Tour code :
Laos Hill Tribes & Treks Holiday Highlights:
Phongsaly is Laos', perhaps Indochina's, last remaining wilderness; and our Adventure Trek takes you right into the heart of it. Having immersed yourself into the wonders of Luang Prabang, travel east to the unique Muang La Resort, enjoying treks and activities in the local region. Turning your attention north, spend 4 fascinating days travelling into, and within, Phonsaly. Trek through remote villages, learning about the variety of minority tribes and cultures that reside in the area and walking amongst one of South-East Asia's finest panorama's..
As with all our itineraries, we have created lots of free time for you to enjoy as you please. If you would prefer a more 'complete travel programme' we will be happy to oblige. We can also tailor this holiday to meet your exact needs – your holiday, your way.
Laos Hill Tribes & Treks Holiday in Brief:
Day 1: Arrive Luang Prabang
Day 2: Luang Prabang, Walking Tour Meals: (B/)
Day 3: Luang Prabang (B/)
Day 4: Luang Prabang, Muang La (B/D)
Day 5: Muang La, 4×4 Adventure & Trek (B/D)
Day 6: Muang La, Boun Thai  (B/)
Day 7: Boun Thai, Trek, Mouchi Homestay (B/L/D)
Day 8: Mouchi Homestay, Trek, Phongsaly (B/D)
Day 9: Phongsaly, Nam Ou Cruise, Muang Khua (B/L/)
Day 10:Muang Khua, Nam Ou River Cruise, Nong Khiaw (B/L/)
Day 11:Nong Khiaw, Nam Ou River Cruise, Luang Prabang (B/L/)
Day 12: Luang Prabang Departure (B/)
Accommodations:
We deeply understand that acommodation is one of the most very important for all our tour so we carefully inspect or pick hotels, cruises, homestays to match general international standards of three, four, five star hotels that must be clean, comfortable, nice room, good breakfast, helpful staffs, good lacation…
Here some our suggested hotel list for this trip, specially we can book others, cruise as you requested. The journey's best luxury hotels in each regions in Laos we highly recommended
• Misc: Homestays
• Vientiane: Ansara Hotel
• Northern Laos: Muang La Resort
• Northern Laos: Nong Khiaw Riverside
• Luang Prabang: Villa Maydou
Meals:
One of most special highlight in Cambodia travel, you can taste local food in each regions that we will arrange all lunch or dinner in Cambodia food, and If you have any specific food requirements (vegetarian, vegan, food allergies) please inform us in advance so that we can provide notice to our restaurant, tour guide or our partners so that they can server you better. If you are a food lover, Cruises Mekong River can be your culinary guide and provide you the opportunity to savor tempting local food and world-famous dishes. Please be note that for the home stay, the meal will be cook by the house owner and they are well-trained for hygiene as well as prepare for good recipes
Meals are included as specified in the itinerary. Meal note: are: B=Breakfast, L=Lunch, D=Dinner.
Breakfast:  Each breakfast will be served in your hotel. Maily Buffet breakfast selections include both Cambodian and Western dishes to meet every diner's taste.
Lunch:  Lunches are normally arranged at the Cambodian restaurants near the scenic spots. Your tour guides will order food according to your appetite. Most are Cambodian dishes, and some are modified to fit westerners' tastes.
Dinner:  Same as lunch. If you prefer to not eat Cambodian food, Cruises Mekong River suggests you have dinner on your own. Your local tour guide can recommend some good western restaurants in the area.
Tourguides:
All Tourguides or Tour escorted are local people who take you to all destionations that meantions in program and our guide will try their best to make you having a enjoyable Vietnam holiday.
Languages: English, French, Spanish, German, Chinese speaking tourguides as request
Qualifications: Exellent foreign languages, professional presentaion skills, knowledges, helplessness, friendliness, expreriences.
Laos Hill Tribes & Treks Holiday Full Itinerary:
Day 1: Arrive Luang Prabang
Upon arrival in Luang Prabang, you will be met by your guide and transferred to your hotel. The remainder of your day is at leisure.
The ancient royal city is surrounded by mountains and is situated at a junction of the Mekong and Khan rivers.
In the centre of the city is Mount Phousi, rewarding climbers of its 328 steps with stunning views of the surrounding temples and hills. Luang Prabang, a city where time has seemingly stood still, is also an outstanding example of the fusion of traditional Lao architecture with structures built by the European colonial authorities in more recent times. Its unique, remarkably well-preserved townscape illustrates a key stage in the blending of these two distinct cultural traditions.
Overnight in Luang Prabang.
Day 2: Luang Prabang, Walking Tour Meals: (B/)
---
---
An option (although we highly recommend it; in fact, we almost insist) for early-risers (05h30) is a very special dawn visit to witness the long lines of orange-robed monks leaving their pagodas to receive offerings of food from Luang Prabang residents. Ask your guide for how best to join in if you wish to. Return to your hotel for breakfast, or enjoy a pastry and coffee at one of the many stalls already doing a roaring trade.
After breakfast, enjoy a tour of this stunning city. Your circuit begins at the former Royal Palace, now the National Museum, (closed on Tuesdays). Visit Wat Mai, a temple renowned for its golden bas-reliefs. During Pimai (the Lao New Year celebrations in April), the Prabang – normally housed in the Royal Palace Museum – is put on public display in this temple. You will then continue on to the most photographed temple in Luang Prabang (quite an accolade!) – Wat Xieng Thong.
Also visit Wat Visoun, entirely rebuilt after its destruction in 1887 by the invading Black Flags from southern China. In the courtyard of Wat Visoun stands the Watermelon Stupa, which is shaped like the fruit it takes its name from. You will also visit Wat Aham, where you will find the altar of the 'two geniuses of Luang Prabang' and Wat That, where the ashes of King Sisavang Vong are interred inside the large central stupa.
In the afternoon visit the excellent Arts and Ethnology Centre which gives an insight into the ethnic and cultural mix of Laos. Continue to the weaving and textile villages of Ban Xangkhong and Ban Xienglek. Our final stop of the day is a climb Mt Phousi, which offers a spectacular sunset and a panoramic view over Luang Prabang and the Mekong River.
Overnight in Luang Prabang.
Day 3: Luang Prabang (B/)
Your day is at leisure.
Overnight in Luang Prabang.
Day 4: Luang Prabang, Muang La (B/D)
Morning departure from Luang Prabang, heading north to Muang La. Although the drive is long (5 hours approx), you will be treeted to rolling countryside where you can admire the beauty of the Nam Ou River and the surrounding rice paddy fields. After a break for lunch at Pakmong, the road twists and the scenery becomes increasingly mountainous. This section of the journey is a good opportunity to stop and explore some Hmong villages including Ban Xong Ja.
Arrive at the delightful Muang La, famous for its natural hot springs, arriving by mid afternoon. The remainder of your day is at leisure to enjoy the serenity of the Muang La Resort and its welcoming hot spring baths.
Overnight in Muang La.
Day 5: Muang La, 4×4 Adventure & Trek (B/D)
Depart Muang La by 4×4 vehicle for a day of trekking and exploring the local area where you will discover minority hill tribe people and their fascinating way of life. Today's journey is truly off the beaten track and ensures some stunning mountain views along the way.
Commence trekking over farmland and hills, with a picnic lunch trek for 45 minutes at the beautiful village of Ban Phavie, a Khamu village atop a hill, and with superb views over the surrounding area.
After lunch continue trekking to reach a beautiful waterfall where you can relax and freshen up. Return to Muang La in the late afternoon where the remainder of your day is at leisure.
Overnight in Muang La.
Day 6: Muang La, Boun Thai  (B/)
After breakfast, depart for the remote northern province of Phongsali. The journey takes approximately six hours and along the way you will pass a number of colorful minority tribal villages. Upon arrival at the Khmu minority village of Ban Nakrasip there will be a chance to stop and explore the village, learning more about the Khmu way of life.
Arrive at Boun Thai in the late afternoon. The town is a popular stopping point for travellers heading to Phongsali, and a number of non-Governmental Organisations (NGO's) are based here. The remainder of your day is at leisure.
Overnight in Boun Thai.
Day 7: Boun Thai, Trek, Mouchi Homestay (B/L/D)
After breakfast make a visit the morning market, before driving 2 hours to the start point for your day's trek. Arriving in the late morning, and having enjoyed a picnic lunch (Laos style!), trek for around three hours to a beautiful village of the Mouchi minority tribe, one of just six Mouchi villages in Phongsali Province. The Mouchi people are extremely welcoming and, upon arrival, you are likely to be offered a traditional welcoming massage.
In the evening dinner is cooked by the villagers, and you will spend the night as guests of one of the families.
Overnight at homestay.
Day 8: Mouchi Homestay, Trek, Phongsaly (B/D)
---
---
After breakfast at the village, trek for a further three hours to an Akha Eupa minority tribe village, where you can stop and spend a few hours with the villagers, and enjoy a local lunch. You driver will meet you nearby to complete the journey to Phongsaly by car.
Unquestionably one of Laos' most interesting towns and certainly far less visited than most, Phongsaly is located close to the Chinese border, with a opulation unsurprisingly consisting predominantly of Chinese traders, as well as a large number of local ethnic groups such as the Phou Noy and Chinese Ho. In fact it is only due to quite recent French occupation that Phongsali is not part of China.
In the late afternoon enjoy the spectacular sunset view from Phou Fa, or Sky Mountain, looking out across the rice terraces and valleys as far as the eye can see.
Overnight in Phongsaly.
Day 9: Phongsaly, Nam Ou Cruise, Muang Khua (B/L/)
After breakfast, transfer to the village of Hatsa, from where you will board a private boat for your five hour cruise down the Nam Ou River. It's a particularly picturesque stretch of water, even by Lao standards, and throughout the day you will pass by a number of riverside settlements where you can stop to explore further if you wish.
Arrive in the afternoon in Muang Khua, located on the banks of the Nam Ou River and overlooking a floating bridge just 60km from the Vietnamese border.
The French had a presence here until 1954, when their forces were ousted from Vietnam in the aftermath of the infamous battle at Dien Bien Phu. It has a shanty-town look about it, with rickety, old wooden buildings and narrow winding streets. You will see many minority tribal folk from the surrounding countryside, as they come to buy or sell in the market, especially in the mornings.
Overnight in Muang Khua.
Day 10:Muang Khua, Nam Ou River Cruise, Nong Khiaw (B/L/)
Leaving Muang Khua you will take a slow boat down the Nam Ou river. En route, stop to visit Muang Ngoi. Only accessible by boat, it was once a quaint village, nestling at the foothill of a giant limestone outcrop. Now it's an ideal place for travellers to take a break whilst coasting up and down the Nam Ou. There's time to explore the nearby Tham Kang and Tham Pakeo caves. Continue by boat to Nong Khiaw, a friendly junction town, popular with travellers heading to the north and east.
We've left your evening free for you to do as you please. There are a number of excellent local restaurants to choose from – the fine Indian restaurant next to the river is always popular with the backpackers in town.
Overnight in Nong Khiaw.
Day 11:Nong Khiaw, Nam Ou River Cruise, Luang Prabang (B/L/)
Departing early, enjoy a day cruise down the Nam Ou River towards Luang Prabang, passing under towering limestone karst and cliffs throughout much of the day.
Stop en route to visit the Pak Ou caves, which house literally thousands of Buddha statues, hidden from the looting Chinese Haw in times gone by. The statues range from a few centimetres to the size of a human.
Approaching Luang Prabang in the late afternoon, it's a wonderful way to arrive at this engaging city. The remainder of your day is at leisure.
Day 12: Luang Prabang Departure (B/)
Your day is at leisure until your transfer to the airport for your onward flight.
Laos Hill Tribes & Treks Holiday Price & Inclusions:
Tour Price:
Since this is a private tour, the price per person varies and depends on many aspects, such as your group size, the hotel ratings and your departure date or spcial requests. If you want to get a custom price quote for this tour, please fill out the online inquiry form and give us as much information as possible about your trip. Your online travel consultants will be at your service and help you make the most of your travel time and dollars!
Tour Inclusions:
•  Private door-to-door pick-up & drop-off services.
•  All private transfer and transportation
•  Accommodation shared in Twin/Double room with daily breakfast
•  Experienced English or French speaking guide.
•  Meals as stated in the itinerary (B: Breakfast ; L: Lunch ; D: Dinner)
•  All sightseeing tickets.
•  Seasonal fruits, tissues and water on coach.
•  Services charges and government tax.
•  Exclusive and personalized single agent/single customer service.
•  No extra charge after confirmation
•  24/7 hotline support guaranteed
 Tour exclusions:
•  International flights
•  International departures taxes
•  Personal expenses, tips and gratuities
•  Travel insurance
•  Beverage
•  Peak season or Public holidays surcharge if any
•  Compulsory Gala dinner on X-Mas or New Year if any
•  Laos visa stamp fee (VND 525,000 & 01 passport photo each person)
•  Other services not mentioned above.
Exchange Rate: 1 USD = 21,000 VND
more - Laos Hill Tribe Trekking Holidays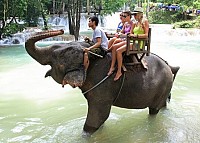 Tour schedule:
12 days/ 11 nights