Halong Bay Valentine Cruise 2 Days
Tour schedule : 2 days/ 1 nights
Tour code :
Hightlights:   The Luxury Valentine Cruise is best cruise in Halong Bay with custom-designed yacht features oriental style that house an elegant restaurant, bars
Halong Bay Valentine Cruise 2 Days:
The selection of luxury Halong bay cruise of the fleets – the Halong Bay Valentine Cruise that started in early April 2007 and recently built new Indochina Sail Premium or Valentine Cruise to meet all travel's luxury needs to enjoy the gogeous scenery. Custom-designed yacht features three decks that house an elegant restaurant, two bars, a small library, and a massage room—plus luxurious sleeping cabins to help the passengers can truly unwind and enjoy the bay's magnificent scenery. Spend your days cruising, kayaking, fishing, or snorkeling. Then in the evenings enjoy a massage to a full wellness package. Relaxing at a spa is the perfect way to unwind after a day of adventures
•  Wonderful cruising in Halong bay with luxury boutique Cabin.
•  Swimming and a climb to the best panoramic view of the bay at Titop Islands.
•  Experience the local culture and exotic daily lifes at Floating Villages.
•  Visit the Luan Cave area with little sampan and natural peaceful lagoon.
•  Cruising through Bai Tu Long Bay, viewing or swimming.
•  Kayaking through caves into peaceful lakes surrounded by limestone mountains.
•  Enjoy Morning Tai Chi Exersice and welcome sunrise.
•  Visit one of the bay's largest and most spectacular indoor caves, "Sung Sot" or "Surprise Cave".
Indochina Sails Cruise Halong Bay Cruise Map:
---
---
Halong Bay Valentine Cruise 2 Days
Grade:
Duration: 2 days/ 1 nights
Cruise Routes: Halong bay – Titop Island – Floating Village – Sung Sot cave – Luon Lagoon – Halong Jetty
Day 1: Welcome aboard – Halong Bay Valentine Cruise  (Lunch/Dinner)
7:30-8:00 Pick up & transfer to Halong Bay City
11.30: Arrive the private dock at Arrive at Bai Chay/Halong pier.
12.15: Transfer by tender to the boat – enjoy Welcome Drink, receive cruise briefing and safety instructions.
12.30: Check in and begin cruise. Sail through beautiful Bai Tu Long Bay enroute to Halong Bay.
13.00 – 14.30: Lunch – enjoy deluxe Vietnamese and International Set Menu Lunch.
Massage service available beginning after lunch and throughout the cruise. Please book in advance with your Cruise Manager.
14.45: Arrive at Luon Cave. Depart from the boat and journey past such popular sites as "Đầu Người" Head Island, "Con Rùa" Turtle Island and "Cổng Trời" Heaven's Gate Island on the way to the cave. There are two options for exploring the cave and surrounding area. One option is to transfer to small bamboo boats which are rowed by the local people. The second option is to travel by kayak (passengers row kayaks for themselves). The kayaking option is VND 210,000 per person unless pre-booked.
15:45: Return to the boat and sail for about 15 minutes to our second stop – Titop Island.
16.00: Arrive at Titop Island. Enjoy swimming, relaxing on the beach and climbing the steps to the top of the mountain on the island for fantastic views and photo opportunities. Water and towels will be supplied. We will spend about 45 minutes on the island.
17.00: Depart and sail for about 30 minutes to Luon Bo area, where we will anchor for overnight.
19.15: Dinner – deluxe Vietnamese & Western Buffet or Set Menu Dinner.
20.45: Evening activities include: film entertainment (on some boats) in the dining room at 21.00, board games and playing cards are available, and massage services are available. Passengers may also try their luck at squid fishing from the boat.
21.00-23.00:Happy Hour! Buy one drink – get one free (wine by the bottle excluded)
23.00:End of Program for Day One.
Accommodation: Halong Bay Valentine Cruise
Day 2: Halong Bay Valentine Cruise – Halong Bay – Hanoi (Brunch)
06.45: Coffee, tea and breakfast pastries served in the dining room.
07.00: Enjoy Tai Chi instruction on the sundeck (duration about 30 minutes).
07.00:Arrive at the Surprise Cave area. There is a small fishing village here.
07.45: Transfer by tender to the Surprise Cave. Walk up about 100 steps to the cave entrance and tour the cave for approximately 45 minutes. Walk down about 100 steps and return to the boat.
9.00: Upon return to the boat you will have 30 minutes to freshen up and finish packing. Please remove all of your belongings from the cabins, you may leave heavy luggage outside of the cabins (staff will transfer directly to the pier). Depart for Bai Chay/Halong pier.
09.30: Enjoy Breakfast Set Menu or Buffet in the dining room. We will settle bills after breakfast. Relax on the sundeck or in the dining room enjoying the bay scenery as we approach the pier.
11.00: Arrive at Bai Chay/Halong pier. Transfer by tender to the pier, relax inside the pier building while waiting for return transportation.
Meals: Brunch
16:00 Arrive Hanoi, end of services.
Notes:
• Cruise itinerary and schedule are subject to change due to weather, tide levels and operating conditions. Swimming or kayaking excursions may be cancelled due to poor weather. Unused services are not subject to a refund.
• Meals on board are fusion: Vietnamese, seafood & international. Guests should advise of any special food preferences, allergies or dietary requirements at least one (1) week prior to the cruise date.
• Advance registration is required with full name, date of birth, nationality, gender, passport number and visa expiry date for all passengers. A valid passport is required upon check-in. Otherwise, boarding may be denied by port authority.
Halong Bay Valentine Cruise Price:
Number in Group

Validity until 30th of April 2013
Price per person in VND in party of

1

2-3

4-6

8

Single Supplement

Valentine Deluxe

6,510,000 VND

5,313,000 VND

4,893,000 VND

4,515,000 VND

3,150,000

VND

Valentine Suite

12,705,000 VND

6,888,000 VND

N/A

N/A

N/A

Charter

52,500,000 VND (Maximum 10 Persons/ship)
 Exchange Rate : 1 USD = 21,000 VND
Note: Now we are having a special discount up to 10 % of total price for early birds or group booking for this cruise in 2012.
Children Policy:
Child under 05 years old: free of charge (sharing cabin with parents without extra Bed)
Child from 05 to under 12 years old: 75 % adult`s cost (sharing cabin with parents with extra Bed)
Child over 12 years old: 100% adult`s cost (sharing cabin with parents with extra Bed)
Halong Bay Valentine Cruise 2 Days Inclusions:
Cruise Inclusions:
• Shuttle Bus transfer from hotel in Hanoi-Halong Bay-Hanoi. Round Trip pick up from your hotel.
• Accommodation on Board: Private Cabin with seaview window,
•  Meals on Board: 1 Lunch + 1 Dinner + 1 Brunch with fresh sea food, Vietnamese food, Asian & International food.
•  English/French Speaking Guide on Board
•  Welcome Drink on Board (soft drink, tea or coffee)
•  Insurance on Board
•  Tai Chi Exercise in the morning
•  Entrance Fees & Sightseeing tickets
•  Visiting Caves & Fishing Villages.
•  All taxes & services charge
 
Cruise Exclusions:
•  Visa Arrangements
•  Pre-post accommodation in Hanoi
•  Visa Arrangements
•  Beauty Spa Services and Massage
•  Beverages and Tobacco
•  Tips and other Personal Expenses
•  All other services not clearly mentioned above
•  Kayaking: on request
more - Valentine Cruise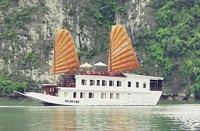 Tour schedule:
3 days/ 2 nights